Promisec announces its new PEM for MSSPs solution launchPromisec Team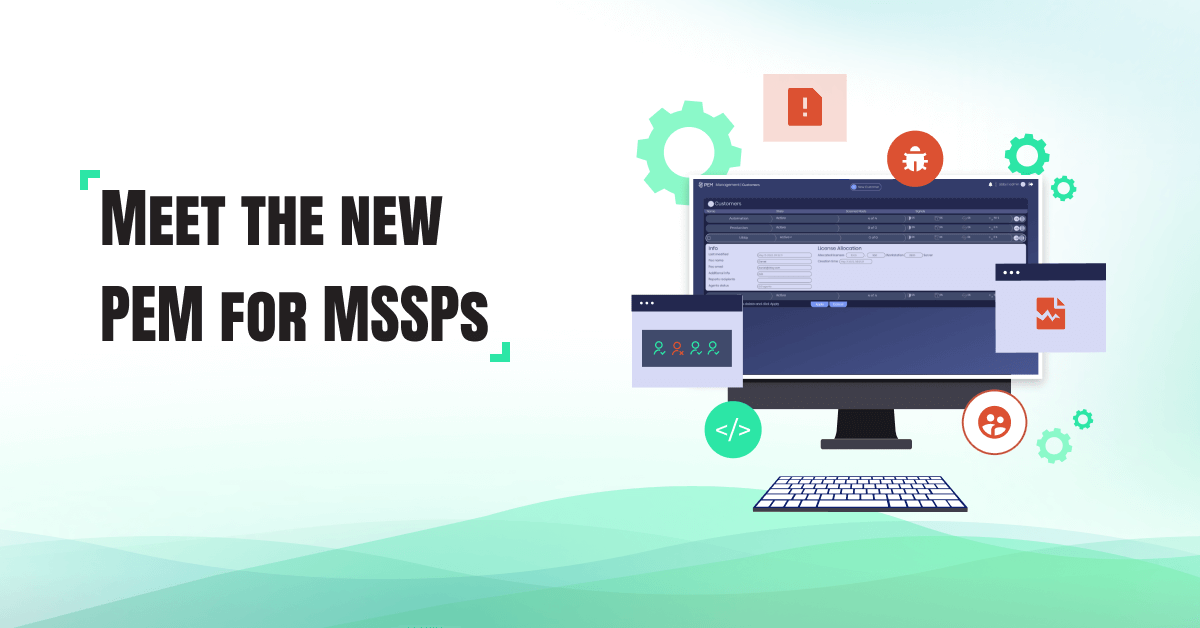 Tel Aviv, 21 June 2022  – Promisec, an Israeli based provider of endpoint cyber management solutions, has announced the launch of Promisec Endpoint Management (PEM) solution for Managed Security Service Provides (MSSPs).
The new PEM for MSSPs enables IT and security service providers to expand their portfolio with a unique and high value security compliance management service.
PEM monitors MSSPs customers' workstations and environments and seamlessly ensures that they are all up to date. More importantly, PEM provides assurance that customer endpoints are not exposed to vulnerabilities and can meet security standards defined in organizational policy.
Where PEM for MSSPs shows its true worth is in its ability to provide comprehensive, real-time visibility across all endpoints and servers connected to the solution. The endpoints are managed with a specially designed user interface, built from the ground up to meet the management requirement needs of MSSPs.
This solution was tailored to the specific needs of MSSPs, striving to deliver premium value to their customers. Effectively managing numerous, diverse customers, with different characteristics and requirements, is extremely challenging. MSSP teams require flexible solutions allowing visibility, with ease of use and minimal friction.
PEM for MSSPs solution allows MSSPs to easily add new customers, defining tailored policies, focus points and reports. The solution allows each covered organization to provide clear and concise reports to their stakeholders, while increasing engagement and value added to customers.
Additional functionality for PEM for MSSPs include; a web-based and user-friendly dashboard curated for the MSSPs' customers. The dashboard can be externally accessed to enable customers to gain enhanced visibility throughout their specific domain.
According to Promisec CEO Ori Shahar: "Endpoint monitoring and management solutions are not new to the market. However, until very recently only large enterprises could effectively benefit from highly dedicated automated solutions, ensuring all their endpoints and servers met the company security compliance policy. At Promisec, we believe that comprehensive endpoint management solutions should be within reach for every company, regardless of size or security budget."
Promisec currently serves dozens of enterprise customers with its PEM solution, who use PEM to optimize their endpoint management posture. PEM for MSSPs is ideally suited for smaller companies who consume their IT and security services via IT service providers.
Promisec Chief Business Officer Haim Levy commented "The official launch of PEM for MSSPs enables us to increase our footprint in the market with a truly unique solution to endpoint threat management. PEM brings customers' security visibility to a new level, enabling MSSPs to better define security policy for each customer's specific pain points and enforce requirements. We are excited to invite the MSSP community to experience PEM's advanced endpoint management capabilities, as it will surely prove to be a valuable element for any MSSP."
About Promisec:
Promisec provides high-end endpoint management solutions designed to meet enterprises' security and compliance requirements.  Promisec's patented agentless technology enables companies to get 360° visibility, as well as advanced real-time inspection, reporting and remediation capabilities across all endpoints within the organization.
Promisec solutions are trusted by leading enterprises in diverse sectors, including Euler Hermes, Nayara Energy, Israel Police, City of New York Human Resources, Kotak Bank, Elbit Systems, Clal Ins., Bank Poalim, Tnuva and Jefferson Uni.
Promisec is a CYDERO company since November 2019 and includes an elite team of cyber experts from 8200 alumni. The company operates from its headquarters in Israel and collaborates with local partners in the USA, EMEA and APAC.
Visit us at www.promisec.com and follow us on LinkedIn and Twitter.
For all media inquiries, please contact Haim Levy, CBO, Promisec: [email protected].
Sign up for the newsletter
If you want relevant updates occasionally, sign up for the private newsletter. Your email is never shared.